Hunan Embroidery is one of the four famous handcraft embroideries in China with over two thousand years of history. Mr.Su Huo, an senior artist as well as native in Changsha City of Hunan province, invented Su Huo Embroidery Garden. taking essence of Hunan Embroidery and integrating it with oil painting technology.

Su Huo chose several smart embroideresses from thousands and brought them up earnestly. Under his careful instruction, modern pictures are described on silks with the sense of three-dimensional, space, light and texture of oil painting effects, the silk threads used are so fine that it will take artist more than several months to complete. Now Su Huo is an artcraft master of Hunan Province, member of Chinese Institute of Arts and Crafts, vice director of Hunan Arts and Crafts Association. His artworks are collected and treasured by royal families, famous people as well art collectors.
Mr. Li Xiangshu, a senior embroidery historian and writer of Hunan Embroidery History, gives high praises to Su Huo whose works are regarded as "The Revolution of an Embroidery History".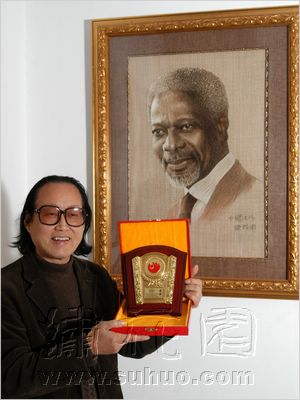 Su Huo and his gold prize artwork